As a family-owned business, we place great value on trust, appreciation, loyalty and empowerment. All of this ensures a harmonious working atmosphere, in which the common "beer at four" every Friday is everyones favourite tradition.
Since 1996, VIVAI has managed to inspire qualified experts, innovators and highly motivated employees in the "War of Talents" and to retain them in the long term.
The E-Equality distinction
We are certified as an especially employee-friendly company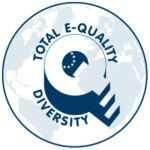 "A good mood translates to good projects" is one of the themes of VIVAI, because a positive working atmosphere is the foundation of everything we do. We are a passionate IT service provider and everyone involved feels that: Relaxed conversations, happiness and a smile are simply part and parcel of our work, whether with one another or with customers and partners - everyone can feel comfortable with us.

VIVAI Software AG
Betenstraße 13-15
D-44137 Dortmund
Fon: +49 231 914488-0
Fax: +49 231 914488-88
E-Mail: info@vivai.de

Entry in the commercial register
District Court Dortmund
HRB 14851
Sales tax ID number:
DE 18 18 57 854
Copyright ©
2023
 VIVAI Software AG
Alle Rechte vorbehalten.